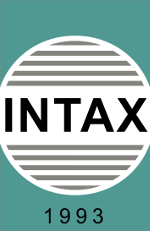 INTAX is a Czech company operating in the area of information technology since 1993.
The goal of INTAX is to provide top quality services in the area of information systems, to develop application software in accordance with the customer's requirements, and to provide top-rate service for the supplied solution.
Every project is developed in accordance with the customer's requirements and is special in regard to technologies used in development and operation of th application.
We have a strong background of qualified and skilled professionals with broad spectrum of knowledge, experience and abilities.
We operate on a long-term basis in the fields of finance and tax administration.
INTAX is a holder of the ISO 9001 certificate in the area of "Analysis, design, development, support and maintenance of information systems".
We fully meet customer's requirements for data security and non-disclosure. We abide by the ethical rules in all activities of the company. Our employees observe general operational terms in regard to intellectual property, sensitive data, business activity restriction and security.

Our offer
We offer solutions that are not available ready-made on the market.
We develop medium to large information systems. We cover all stages of project lifecycle, from user requirements specification to operational support of the provided applications. Every project is special in regard to technologies used in development and operation of th application. We also offer consultation services, technical support and training.
We use classic relational databases and 4GL languages (Informix Dynamics Server, Informix 4GL) and currently preferred object relational databases and object oriented development tools (Enterprise Architect, Java). We employ mostly Java J2EE web applications (JSF, Hibernate) that use application and web server (Apache, Tomcat, JBoss), database server (Oracle, Informix) and operating systems AIX, Linux and MS Windows. In the design stage, we use CASE tools Enterprise Architect, SELECT SE or Sybase PowerDesigner. We use the XML and SOAP standards.
We can also offer solutions or parts of a solution based on the Force.com platform (Salesforce.com).
We have experience with the design of transaction oriented systems, distributed data processing and consolidated data stores. We have experience with large data volume transfer and processing and with design of optimized algorithms for top level control and analysis.
We implement the projects on varied platforms and we are able to utilize technologies used by th customer.

Partners
We rely on strong potential of our company and we utilize the capacity of our partners. INTAX is a long-term IBM partner (in the area of software development, pSeries servers) and ORACLE partner. We cooperate with KTS (building network infrastructure), LBMS (analysis, design, project management) and ITSC (security).